OFFSPRING » KENNEL "VUTUZANE"
"Vutuzane" H-litter

*2011-04-23

born: 11 puppies (9 males/ 2 females)
remained: 10 puppies (8 males / 2 females)

Ndoki Chandalou Cheka

x

Vutuzane Charie

Kennel "Vutuzane"

Fam. Elke & Peter Stoffel
Bilsdorfer Straße 69
66793 Saarwellingen
Germany

Tel.: 06838-7764
E-Mail: info@vutuzane.de

PICTURES OF THE PUPPIES
Cheka and us have visited Cheka's 5 weeks old puppies in the Saarland!
Here they are lovingly brought up and looked after by their dog-grandmother and their dog-great-grandmother! The puppies are developing magnificiently!
Thank you, Elke and Peter, for the wonderful hours that we spent with you, your dogs and the puppies!!!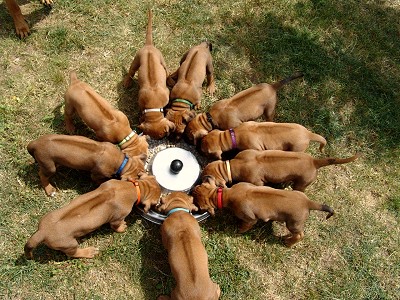 [Please click on the photos to enlarge them]

PICTURES OF THE GROWN-UP DOGS
HOTARI

Hotari has his own website! Please have a look here:

Haruny-Amy and Hotari

Hotari with his half-sister Bahija Lela of Simba Spirit

Hotari with his half-sister Bahija Lela of Simba Spirit

Hotari with his half-sister Bahija Lela of Simba Spirit
Hotari in autumn 2013

PEDIGREE OF THE DOGS
PARENTS
GRANDPARENTS
GREAT-GRANDPARENTS
Ndoki Chandalou Cheka
Matakima Ajani
VDH 05/109 4406
HD-A, OCD-frei ED-frei, DS:DD, rw,
Dt.J. Ch. (Klub)
Kuzonga's Aurelijus
DKK 07592/2002
HD-A, OCD-frei, ED-frei, rw,
AD, BPB
Mairangi Fakima
VDH 02/109 2941
HD-A, OCD-frei, ED-frei, drw
Mavunguela's Vuana
VDH 07/109Ü5515
ÖHZB RHR 658
HD-A, OCD-frei, ED-frei, rw,
WS'06, Int.Ch., Dt.Ch.(VDH), Dt.Ch.(Klub), Öst.Ch., PL.Ch., Dt.J.Ch.(VDH), Dt.J.Ch.(Klub), Öst.Bsg.
Ngai Zamu of Ginba's Hero
NHSB 2.395.721
HD-A, OCD-frei, ED-frei, rw,
NL.Ch., Int.Ch., B.Ch., Dt.Ch.(Klub), Crufts'06
Mavunguela's Savimbi
ÖHZB RHR 480
HD-A, OCD-frei, Öst.Ch.
Vutuzane Charie

Baganda Hale Bopp
VDH 97/109*0704
HD-A, OCD-frei, ED-frei, rw

Tatsfield Redregentbandit
KUSA BG035540

Tandiwe Baganda's Lucky Lady
AKC HM428349/02

Vutuzane Baghira
VDH 02/109 2814
HD-A, OCD-frei, ED-frei, rw

Umhlandla Itshe Lesichotho
KC V3371612V03

Inyangani Fiona
VDH 98/109 0999
HD-A, OCD-frei, rw