OFFSPRING » KENNEL "VOM RITTERGUT HARBARNSEN"
"vom Rittergut Harbarnsen" A-litter

*2011-05-11

7 puppies (4 males / 3 females)

Ndoki Chandalou Cheka

x

Shangani Chuakari Taifa

Good news at the beginning of the year:

The Schönrocks from "Rittergut Harbarnsen" are planning their A-litter and chose Cheka for the mating with their beautiful bitch Shangani Chuakari . If everything goes well, we are looking forward to typeful and healthy puppies in spring. You can find more information under: www.gut-harbarnsen.de

Kennel "vom Rittergut Harbarnsen"

Jessica Schönrock
Kleegarten 3
31097 Harbarnsen
Germany

Tel. 05060 - 1803
Mobil: 0171 - 4501332
j.schoenrock@gut-harbarnsen.de

PICTURES OF THE PUPPIES
June 3, 2011:
I have visited the Schönrocks, Taifa and the puppies at Rittergut Harbarnsen - and I am enthused.
They are alle healthy and lively, have strong bones and grow up well socialised.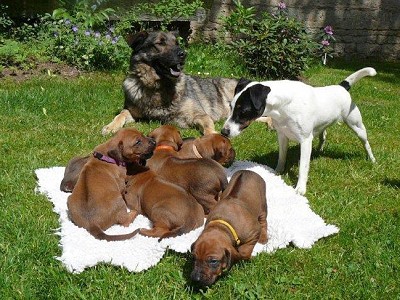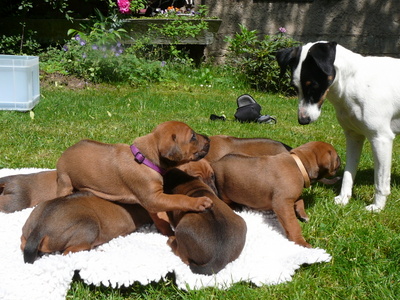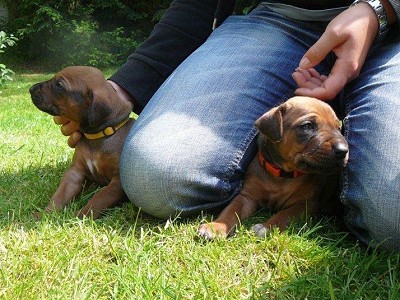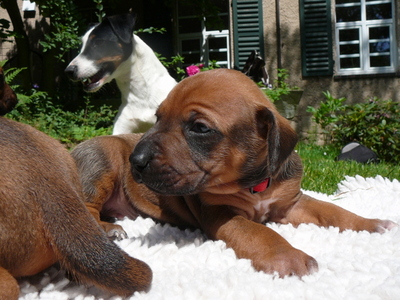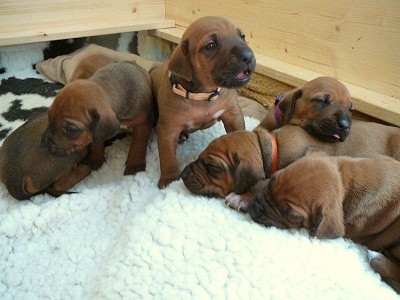 PEDIGREE OF THE PUPPIES
PARENTS
GRANDPARENTS
GREAT-GRANDPARENTS
Ndoki Chandalou Cheka
Matakima Ajani
VDH 05/109 4406
HD-A, OCD-frei ED-frei, DS:DD, rw,
Dt.J. Ch. (Klub)
Kuzonga's Aurelijus
DKK 07592/2002
HD-A, OCD-frei, ED-frei, rw,
AD, BPB
Mairangi Fakima
VDH 02/109 2941
HD-A, OCD-frei, ED-frei, drw
Mavunguela's Vuana
VDH 07/109Ü5515
ÖHZB RHR 658
HD-A, OCD-frei, ED-frei, rw,
WS'06, Int.Ch., Dt.Ch.(VDH), Dt.Ch.(Klub), Öst.Ch., PL.Ch., Dt.J.Ch.(VDH), Dt.J.Ch.(Klub), Öst.Bsg.
Ngai Zamu of Ginba's Hero
NHSB 2.395.721
HD-A, OCD-frei, ED-frei, rw,
NL.Ch., Int.Ch., B.Ch., Dt.Ch.(Klub), Crufts'06
Mavunguela's Savimbi
ÖHZB RHR 480
HD-A, OCD-frei, Öst.Ch.
Shangani Chuakari Taifa

Ye Yapha Gyasi
LOI 052291
VDH 04/109 3964

Ngai Zamu of Ginba's Hero


NHSB 2.395.721

GLENAHOLM JOLLY JINX
VDH 01/109Ü2571
KUSA BQ000203
Shangani Pea-Doya
LOF 6 RHO.RID.001069/00200

Umvutcha Matopo
LOF 6 RHO.RID.000822/00138 ZKC 15645

Sarula Chikadzi
VDH 93/017Ü1028 ZKC 12072